Note: this blog closed in 2018 and is not being updated.  For further updates on the Royal Daimler conservation please visit the National Museum of Australia blog.
We're about to begin an exciting new program of work on one of the most treasured cars in the National Museum's National Historical Collection – the majestic 1948 Daimler DE36hp landaulette that transported young Queen Elizabeth II around Australia during her 1954 visit. You can follow and participate in the progress of our work through this blog.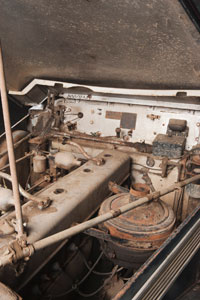 Now in a dilapidated state, the Daimler came into the care of the Museum in November 2009. Through a national fundraising campaign, we aim to raise $60,000 by the 60th anniversary of the first Royal Tour in 2014. This money will directly support the conservation and care of the Daimler, and help transform it back into the glamorous vehicle seen by so many Australians in 1954.
Join with Museum conservators and curators as they research the car's historical significance and undertake conservation and preservation treatments. We look forward to your support and ideas as we tackle a range of issues from establishing provenance to selecting appropriate treatments.
Over the coming months, we will be preparing the Daimler for the upcoming 'Museum Workshop' exhibition scheduled to open in our temporary gallery on 25th October 2012. This innovative exhibition will feature the 'behind the scenes' work of the Museum and include the Daimler as a key exhibit.
The Royal Daimler Project team
Vicki Humphrey, Head of Conservation
Nathan Pharaoh, Large Technology Conservator
Ian Stewart, Automotive Engineering Contractor
Ken Houlahan, Automotive Engineering Contractor
Catrina Vignando, Manager Development
Johanna Hamilton, Development Officer
About the Museum
The National Museum of Australia is a social history museum. We hold a rich and diverse collection of Australian historical material in trust for the nation. Through our exhibitions and programs we promote an understanding of Australia's history and an awareness of future possibilities. The Museum is an Australian Government agency.
Find out more: