by Laura Breen on 12 April, 2012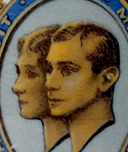 After news of the cancellation of the 1949 royal tour reached Australia, the Chifley government was now faced with the unenviable prospect of redirecting the final stages of planning for the tour – street displays, infrastructure, souvenir production and transport. A huge budget had been allocated to the celebrations, most of which had already been spent, to the dismay of many.
The Museum is lucky to hold rare examples of some of the commemorative material produced for the tour which wasn't to be. This 'Royal Tudor' teacup was made by Barker Bros. of England, and was presumably shipped out to Australia in the months before the cancellation was announced.
Continue reading

"Goods no longer required"