by Catrina Vignando on 18 February, 2014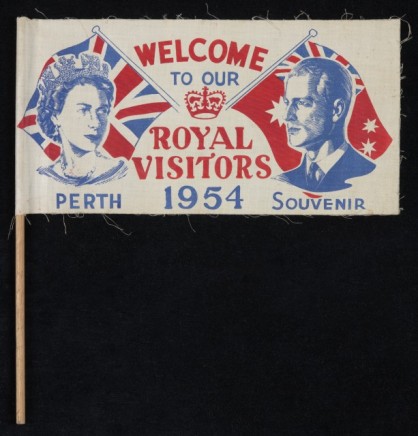 In February, 60 years ago, HRH, Queen Elizabeth II, came to Australia. It was 1954, a mere five months after her coronation and the first tour by a reigning monarch.
The Queen's Royal visit was a two-month journey across Australia. An estimated 75% of Australia's population were able to catch a glimpse of the young Queen as she travelled to 57 cities including regional centres such as Cairns, Lismore, Shepparton, Whyalla and Kalgoorlie.
Her extensive itinerary was aided by the use of very sturdy vehicles that included six Royal Daimlers. These vehicles were specifically commissioned for the Australian Tour. One of these cars, a 1948 Daimler landaulette, now resides at the National Museum of Australia.
As part of the 60th anniversary of the Royal tour, the National Museum has embarked on the Royal Daimler Project restoring this car to its former glory.
Celebrate this anniversary of the Royal visit by helping us to make the Royal Daimler fit for a Queen again.
We need your help to raise $60,000 towards the conservation of the vehicle. To make your donation on our website
Watch out for more Royal gems as over the next few months we will feature more Royal memorabilia from the National Historical Collection at the NMA.
We would love your thoughts and comments on Australia's Royal romance. Are we just as taken by the Royals as we were in 1954?