by Monica Lindemann on 14 November, 2012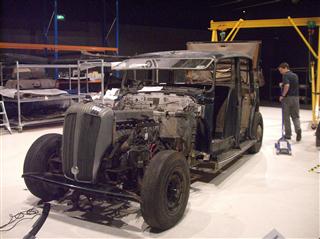 Conservators have been busily preparing for the separation of the body of the Royal Daimler from the chassis. This lift will take place in the Museum Workshop exhibition, commencing 11:50 am on Sunday 18th November, here at the National Museum of Australia in Canberra.
It seems that every time conservators do some detailed work on the vehicle they find more evidence of different aspects of its history. After the numerous desiccated bodies of rats, it was quite special to find a piece of confetti. Just one small piece, but it provides another glimpse at the past use of the vehicle. A wedding – a time of hope and joy.
Those feelings sit well with the footage we have in the Museum Workshop exhibition, of the Queen's 1954 visit. The flag waving crowds are enthusiastic and flock to get a closer view. These days we probably only see such excitement and dedication in crowds of fans pursuing a boy band!
Conservators found a broken comb as well, but that is probably another story….