by Monica Lindemann on 19 November, 2012
Yesterday we had 40 Royal Daimler Conservation Partners visit the Museum for a very special event. The conservation team lifted the body of the Royal Daimler from its chassis. Having carefully prepared the vehicle for the separation, the process took about 20 minutes. Caught on film by ABC TV and our in-house Photographer we can share these images with you all soon.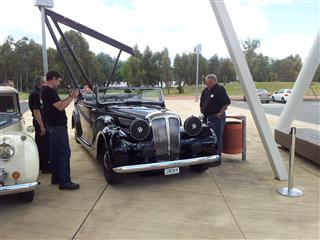 Six Daimlers made the journey to the National Museum for the event and what a grand sight they were. Our conservation team really enjoyed the opportunity to see and hear operational Daimlers, particularly a DE36, the same model as the Museum's historic car.
Thank you to our guests and all Royal Daimler Conservation Partners for your ongoing support and interest in this historic project.