by Laura Breen on 28 March, 2014
The 'Australian Six' is a new acquisition by the National Museum of Australia.
This elegant vehicle represents one of the earliest attempts to establish an automotive manufacturing industry in Australia. In the wake of the First World War and amid growing worldwide interest in automotive technology, Australian entrepreneur Frederick Gordon was among the first to recognise the financial viability of importing cheap vehicle components for local assembly, rather than importing expensive complete vehicles from overseas. Manufactured in the United States in 1918 by American Motors Corporation of New Jersey, this car was imported to Sydney as a partially assembled prototype intended to showcase Gordon's novel experiment.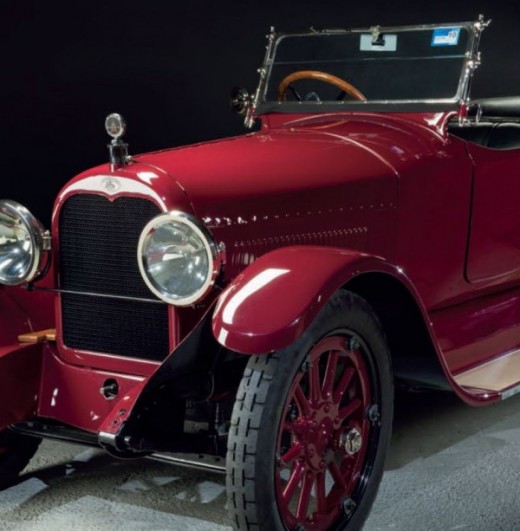 The coachwork and other mechanical modifications were completed near Gordon's premises at Rushcutters Bay, Sydney, and the car was used as a demonstrator model for prospective buyers in 1919. The following year, Australian Motors Ltd established a large purpose-built factory in the western Sydney suburb of Ashfield. That the car was locally manufactured was a prominent feature of the marketing campaign for the new 'Australian Six' marque.
Patriotic advertisements proclaimed the use of Queensland maple, Newcastle steel and Melbourne leather, as well as the labour of Australian ex-servicemen. Although now considered well-made and attractive cars, the luxurious Australian Six did not sell well at the time of its release. Faced with rising costs and initial production problems, the company's lack of success can perhaps be attributed to competition from a range of rudimentary but much cheaper imported American marques. During the early 1920s, the venture was to undergo multiple changes from the mechanical to the administrative, eventually succumbing to financial misfortune.
Sold on, this car passed through a series of private collectors before it was acquired by the Gilltrap family of Coolangatta, Queensland, in 1963. Between 2007 and 2010, George S Gilltrap undertook a comprehensive restoration project with the aim of preserving or replicating all of the vehicle's original specifications. George's thoughtful approach broadly reflects changing attitudes towards the preservation of historic cars into the 21st century. Many car collectors are now placing increasing emphasis on the preservation of historical provenance, and the integration of appropriate new material.
Although Frederick Gordon's early ideals ultimately fell short of the reality of Australia's early 20th-century manufacturing potential, this car remains a magnificent reminder of home-grown entrepreneurship.
Originally published in The Museum Magazine, issue five, Mar – Aug 2014.