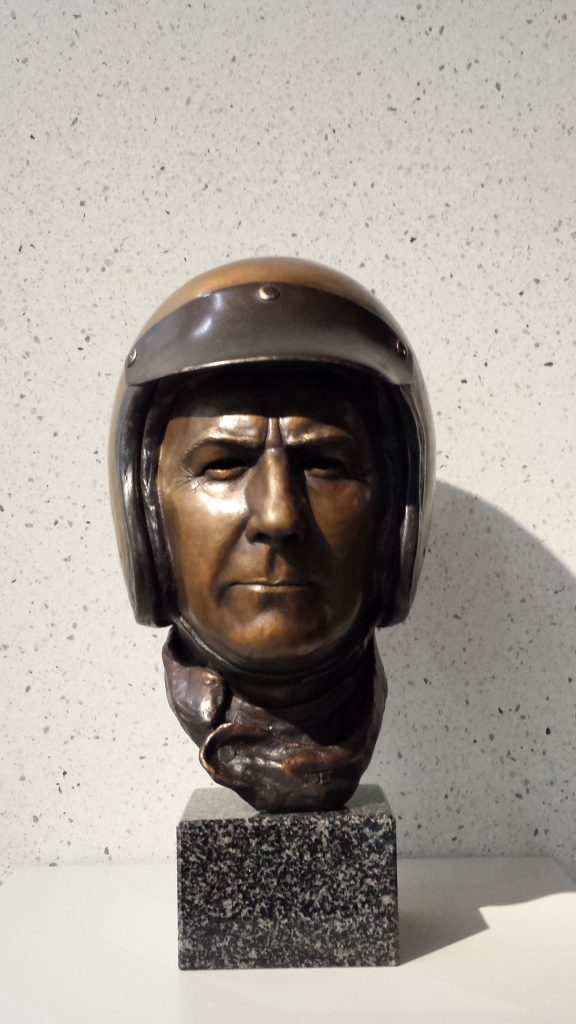 by Monica Lindemann on 1 July, 2014
Over the weekend I took the opportunity to visit the National Portrait Gallery to view the very impressive bronze sculpture of Sir Jack Brabham. Until I was informed by one of our Royal Daimler Project partners, I hadn't been aware that it was on display. If you attend the Gallery, you'll find Sir Jack very prominently positioned at the enterance to the main gallery.
Below is a transcription of the text panel that accompanies the Bronze, acknowledging Sir Jack's incredible sporting achievements.
Sir Jack Brabham OBE (1926-2014) racing car driver studied mechanical engineering before working as a RAAF mechanic during World War 2. After some years building midget racing cars Brabham took to driving, winning the Australian midget car title in 1951.
Switching to road racing, he moved to England in the hope of becoming a Formula 1 driver. Racing in a Cooper Climax, Brabham won the World Championship in 1959 in sensational style. In the last lap of the deciding race he was leading the field when his fuel ran out. Undaunted, he pushed the vehicle over the finish line to take the Championship. It was his first of three.
In 1966 he became the first driver in Formula 1 history to win the title in a car of his own design, the Repco Brabham.
As a driver Brabham has been described as "untidy, but very effective". Indeed, he won a career total of 14 Grand Prix events before retiring in 1970.
Australian of the Year in 1966, in 1979 he became the first person to be knighted for services to motor sport.