by K Still on 16 March, 2012
The Royal Daimler has been placed in a special protective "bag" for a short time while conservators are busy preparing objects to go on display in the Main Hall of the Musuem. 
Talking with Ainslie today, the team will be busy attaching the wings to a Percival Gull monoplane next week.  The Gull is one of a number of large objects nominated to go into the redveloped Main Hall of the National Museum in October.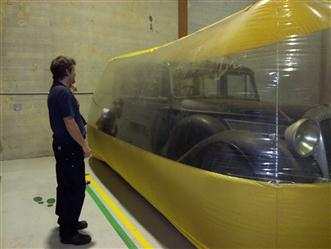 The team will be back to work on the Daimler in April. Meanwhile, the "Carcoon" will be keeping the Royal Daimler free of dust as it awaits its makeover.