by Monica Lindemann on 29 May, 2014
Thanks to many generous Museum visitors making a contribution to donations boxes in the hall of the National Museum, the Royal Daimler Project fundraising total has now reached $41,078.80!
With less than $19,000 to raise we are feeling very confident of reaching the $60,000 target by the end of June, Her Majesty's birthday month!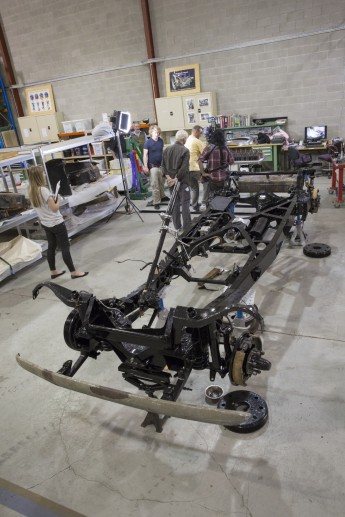 But we are not complacent, and we still need your help!
To show off the conservation work completed so far, and demonstrate how far we still have to go, the reconditioned Royal chassis will be on temporary display in the Museum from the Queen's birthday long-weekend, Friday 6 June, until 27 July (accompanied by a donations box of course!). Visitors will have a rare opportunity to see the inner workings of this historic car and learn more about the conservation project. We are planning some conservator talks while the chassis is on display, so stayed tuned for more information on those.
Tickets are also selling fast for the fundraising, preview screening of "When the Queen Came to Town". The matinee film, followed by a 1950s afternoon tea will be hosted at the Museum 12 June. Seats are limited so book now to avoid disappointment! Buy your tickets online here. We are also preparing for a very special guest to join us for tea – more on that later…..
Thank you for your support so far. Spread the word to your friends, family, club members and colleagues to push us across the $60,000 fundraising line!