by Vicki Humphrey on 3 October, 2013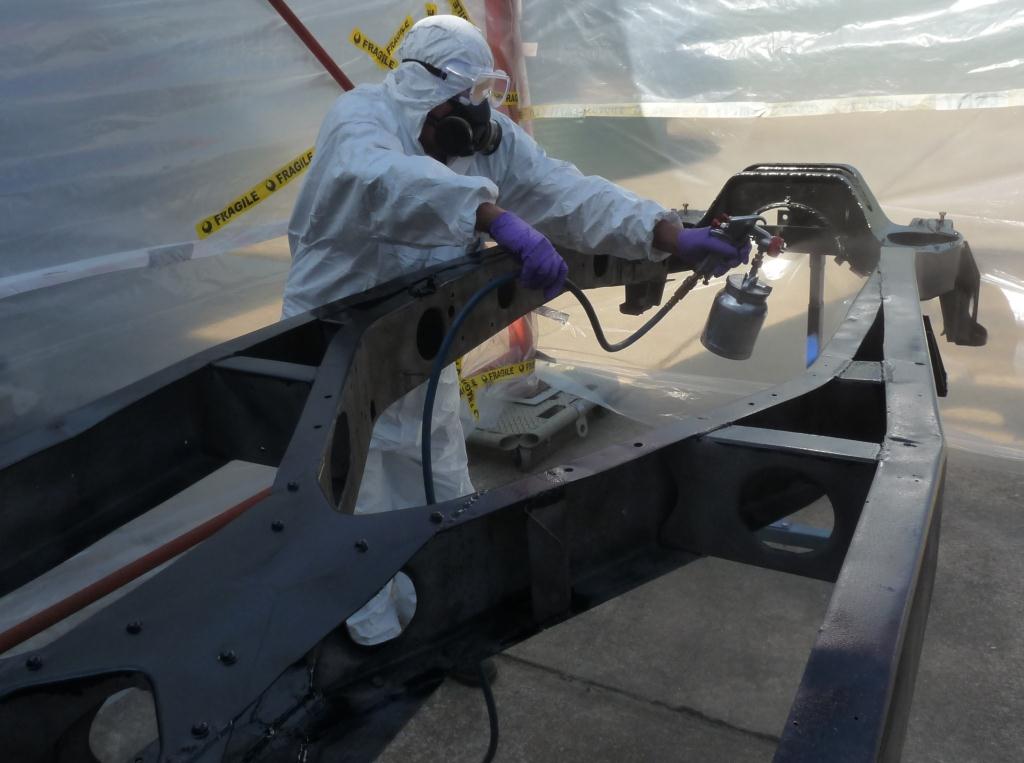 The Daimler chassis that has been a major presence in the Large Technology lab over the past few months has been moved to another Museum site for painting now that it has been repaired. The painting will be done on the forecourt of one of the stores inside a specially constructed tent, with the team decked out in their personal protective equipment (PPE). Our investigations and helpful information from UK and Australia established that the chassis would have been gloss black; and so it will be once more.
The chassis had some damage that had to be dealt with before it could be repainted. The weld seams on the front section cross member had cracked – this was especially evident on the right hand side. These cracks were TIG welded up. The rear section of the chassis on the left hand side was bent and the team were able to straighten this. There were some kinks on the right hand side and these were beaten out. We know that the chassis was modified before the Queen used the car. It seems that the modification was made to accommodate telescopic shock absorbers, which were thought to be required to suit Australian conditions. A little work was required around these modifications to refine them, without removing the evidence of the original work. Following that the chassis was bead-blasted ready for painting.
The battery box appeared heavily corroded, but on close examination it was clear that we could treat it rather than having to remove parts and replace them. A tannic acid treatment allowed us to retain the original – very much in the spirit of our conservation approach.
The various conservators working on the Royal Daimler are going to be delving into the archives again to draw out even more information about the car. Here's hoping we can bring you some gems from the archive in the near future.