by Catrina Vignando on 29 October, 2013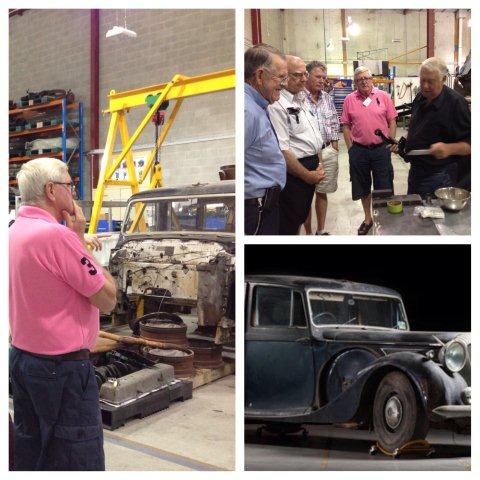 There were some very beautiful Daimlers parked at Mitchell recently when members of the Daimler & Lanchester Owners Car Club of Australia, DLOCCA, were in Canberra to visit the National Museum's grand dame, the Royal Daimler. See more pictures below.
There was excitement amongst the enthusiastic visitors as they explored the progress made to date on the Museum's Royal car. Guided by the Museum's staff we could see the promise of what will be achieved through this conservation project where the car will be made fit for a Queen again!
Members of the DLOCCA have been ardent fans of the Museum's Royal Daimler project and have made regular donations to support this fundraisng program.
It was great to meet so many of our Royal Daimler enthusiasts. I also learnt that John Hiscox was responsible for helping the Museum find its Royal Daimler. He is also the proud owner of a Daimler, very similar to the one used to transport HRH in 1954.
Enjoy the happy snaps from the morning's tour and a big thank you to all our supporters in the DLOCCA.
As Royal Daimler Conservation Partners, the DLOCCA have visited the Museum in the past. Follow this link to read about their visit in November in 2012.