by Vicki Humphrey on 5 August, 2013
After the excitement of the RACA dinner we are now back into practicalities.
Vicki Humphrey is working with the National Museum's three conservation labs to coordinate the work on the different components of the vehicle. While the bulk of the work will be carried out by the Large Technology team, there is no denying that there are challenges and considerable work ahead for the Textiles team, who will be treating the upholstery and the textile fittings.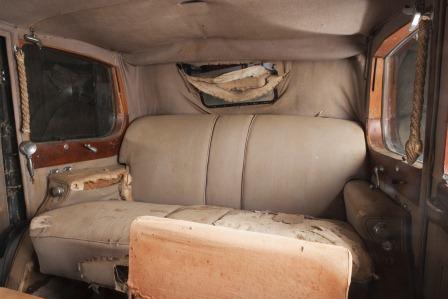 The Objects conservators will focusing on the timber interiors and the instrument panel. The Daimler is not the only project the Conservation section has to work on and so the order in which we carry out the work has to take into consideration the optimum workflows for the Daimler itself and the availability of expertise within the relatively small conservation section. Planning becomes very important.
As we plan, work and research continues. We are investigating the various paints and varnishes at the moment – what is the paint system, what pigments were used, what lacquer was used on the interior timber elements, what was the finish on the paint on the chassis?
As usual, we have had a great deal of support from outside the Museum and are happy to hear from anyone that has information.
Obviously there is much we can observe from the vehicle itself but it is always good to gather information to support our observations. Cars have history and our beautiful Royal Daimler has had a few owners along the way. Just today (August 5th) we were provided with information from England that confirmed our observations and information provided by the Daimler Club: the chassis were painted in gloss – normally black.
The same source mentioned that: The woodwork would be varnished with an oil based varnish which would have had some lead content and I am certain that a neutral sanding sealer would have been used straight onto the veneer. In the 1950′s the varnish would have been sprayed on probably and, as we have discussed, would not have the modern mirror finish. We are looking into the use of shellac at the time the car was built, as this has been mentioned as a possible.
We will keep you informed of further information we get and of the results from the paint analysis. And in the meantime, work continues on the chassis.